Acorns
Project goal

Imagine the ultimate product experience to help families holistically manage their money.


Grounded in research
Acorns' foundational qualitative and quantitative research was used to identify the financial features that would help families the most. Working backward from the customer, we identified three primary experiences for the Family Unlimited tier.


Principles
01. Deepen connections
02. Lead with education
03. Celebrate and encourage growth
04. Deliver joy
05. Make it easier to talk about money



The Family Universe
The Universe is a view of your Acorns accounts and your family's accounts together. By having a holistic financial view, Acorns can help families make more informed decisions, and make it easier to get into other Acorns products.


Recaps
Recaps provide a way to pull key information together on a weekly, monthly or even yearly basis. They can help uncover the valuable work Acorns is doing under the hood, provide smart ideas for financial growth, and facilitate decision-making between family members.


CollaborationWhen questions come up, you don't have to run to other channels and attach screenshots to find out what you need to know, you can just message in the app around any transaction. We see it as a great way to celebrate milestones and talk with your partner and kids. The app can also provide a super-organized place to make financial decisions.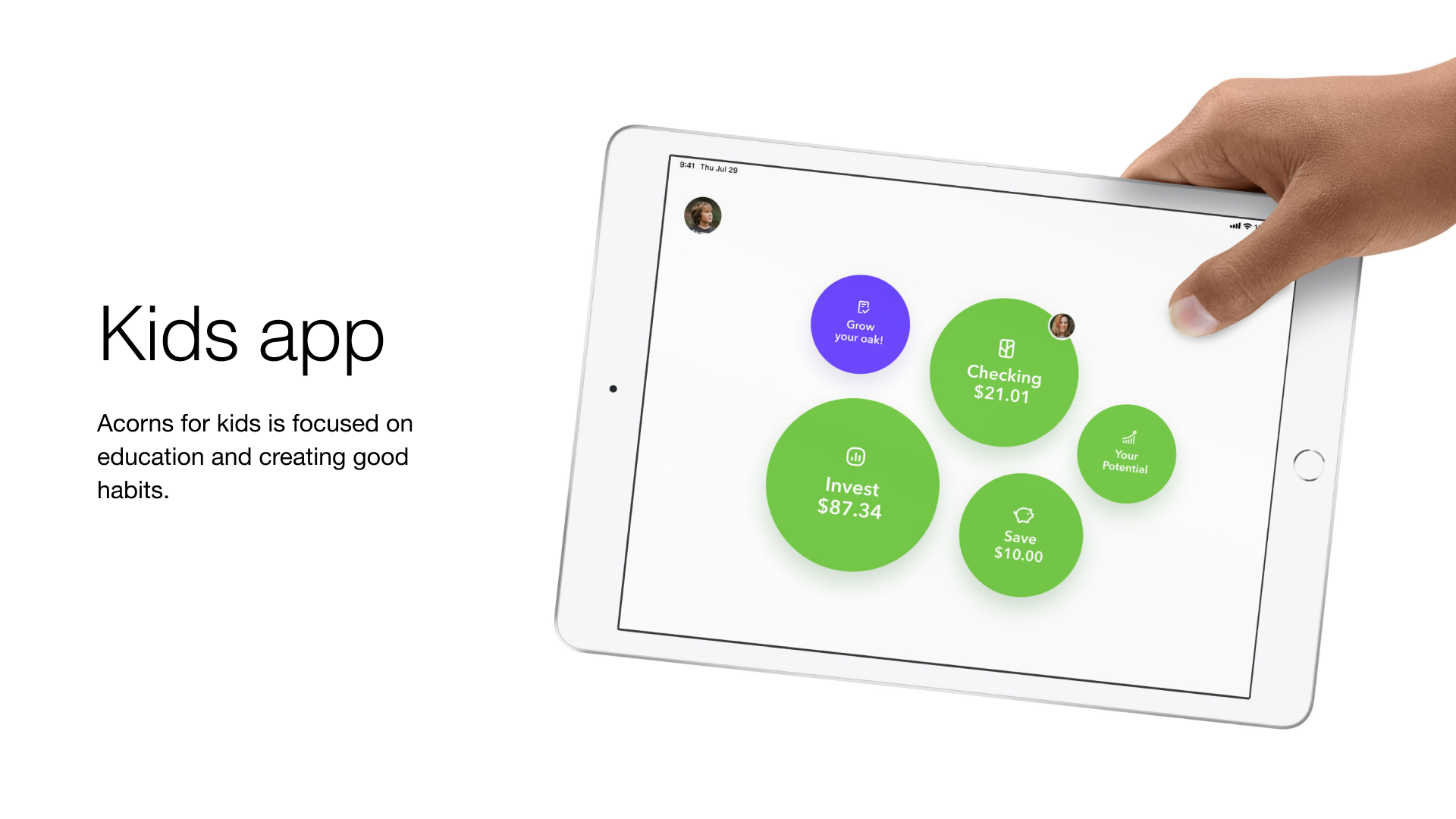 Kids AppOverall, the Kids app is a simplified version of the standard Acorns app. We lean into the Universe motif we created, for the main navigation. Education is introduced whenever possible, and we encourage fun and tactile interactions.

Because tablets are a common first device for a child, and because of the extra emphasis on education for the kids version of the app, we've been exploring the kids app on tablet.

Manage kids
We're imagining a suite of features that help kids learn about and be smart with their money, and help parents see what their kids are up to and easily manage their accounts.


Family Sign Up
We're working on getting the whole family on Acorns in an easy, modular way that can work with planned registration.